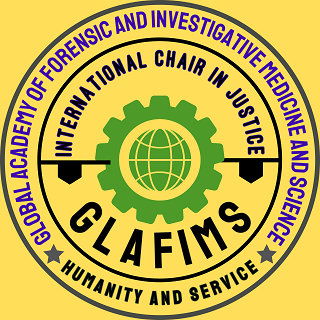 COPYRIGHT: Scientific and legal responsibility of the published articles belongs to the authors. Authors are responsible for the ideas and comments in the manuscript as well as the accuracy of the references. Editor in Chief/Assistant Editor un Chief/ Managing Editors, the Editor, and the Associate Editors or any member of Editorial Board do not accept any responsibility for the published articles. The copyright of the articles accepted for publication is transferred to the GLAFIMS ASSOCIATION. "Copyright Transfer Form" should be signed by the all authors and should be uploaded through journal submission system and should be posted to Editorial Board, International Journal of Medical Justice [IJMJ] . If there are more than six authors, additional forms may be used. This form is available at www.ijmj.net
Disclaimer/Publisher's Note: The information statements, opinions and data contained in all publications are solely those of the individual author(s) and contributor(s) and not of IJMJ and/or the editor(s). IJMJ and/or the editor(s) disclaim responsibility for any injury to people or property resulting from any innovation, ideas, methodology, instructions, conclusions, or products referred to in the content.
SUPPLEMENTS:
Supplementary documents (additional figures, materials & methods, tables, or other items that add to the topic of the article but cannot be included within the main text) can be uploaded to the journal submission system. They may include files that are not printable, such as videos or long gene sequences.
PUBLICATION FEES: The details of fee is available on the website of the journal. Please do visit the website for updated policies and charges on the fee structure.
The manuscripts submitted to International Journal of Medical Justice [IJMJ] for publication should be original studies that were not published before or not submitted to anywhere else for publication.
Authors who submit their studies to International Journal of Medical Justice [IJMJ] should acknowledge that they have to transfer the copyright of their studies to King Faisal University. The editorial board of the journal is authorized to publish the study. Nonetheless, the following rights are reserved:
Patent rights,

All unregistered rights apart from copyright,

Duplication rights on condition that the study is not sold,

The right to use the whole or parts of the study in the author's own books or other academic studies on condition that reference is given,

The right to publish the study on personal websites or open archive of their university on condition that the copyright details are provided.
Those authors who will submit their studies to International Journal of Medical Justice [IJMJ] have to fill in the "Copyright Transfer Form". Wet signature is required. The signed form should be scanned and uploaded during the submission of the manuscript. Those studies whose copyright transfer form is not received by the journal will not be published.
GLAFIMS Home Journal Home About IJMJ Vision and Mission Editorial Board National Peer Reviewers Panel International Peer Reviewers Panel Subsections Office Bearers Open Access Policy Privacy Policy Archiving, Absracting and Indexing Sponsorship and Advertisement Manuscript Writing Rules Copyright Issues Peer Review Process New Submission Policy Complain and Appeal Policy Ethical Policies Plagiarism Detection Policy References and Citations Copyright Transfer Offprints and Reprints Assigning DOI Early View Orchid Identifier Good Reporting Guidelines Editorial Board Membership Agreement form Editorial Board Membership Terms Apply Online For Editorial Board Membership Funding Manuscript Handling Charges Join Glafims Membership Membership Benefits Contact Us
_____________________________________________________________________________________________________________________________________________________________________________
Head Address: G1, Ground Floor, City Center, Medical Road, Aligarh 202002 India E-Mail: glafims@gmail.com web: www.glafims.org
Copyright © 2022-32 by Global Academy of Forensic and Investigative Medicine and Science [GLAFIMS ACADEMY]. All rights reserved. Last Updated: November 1, 2022